Welcome to our Super Saver Sale!.  This sale is only valid from December 4th, 2015, until December 13th, 2015.  In order to participate you must email Sensei Luis at sensei.luis@karatemv.com, or simply give us a call at 949.586.3818.
Here is the list of savings and items:
New Studio T-Shirt!!!  Taking Pre-Orders Now.  $20 for one, two for $35.  All sizes available.  Show your studio spirit.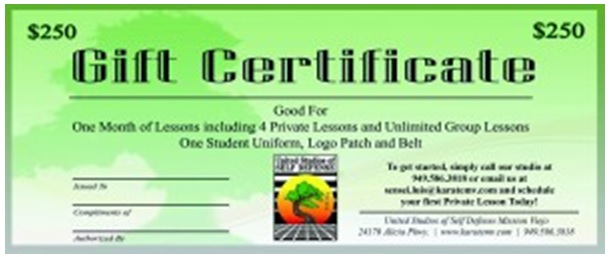 $250 Gift Certificates – , on Sale for $29.95
This is a great Gift Idea to give your loved ones, who may be     interested in starting Martial Arts Lessons.  The Certificate includes One Month of Classes, including Private and Group Lessons + Uniform.  These certificates are only valid at Mission Viejo West, Mission Viejo South and Fountain Valley, and may not be redeemed for cash.  They have no expiration date. New Students only.
New USSD Sweater!!! Available on Kid and Adult Sizes
This is a great present for this chilly season.  Two new kinds – the first one featuring the 5 karate principles (picture display) and the second one in cardinal burgundy color, and comes in sizes Child-Small through Adult-XXL.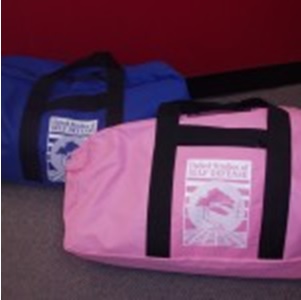 Sparring Gear – Save 10% of original price.   – NOW ONLY $180 plus tax
For Yellow Belts and above.  This package includes Gloves, a Cage Helmet, Shin Guards, Shoes, Athletic Cup (boys only, girls may exchange for equivalent item), Tournament Bag, Mouthpiece and container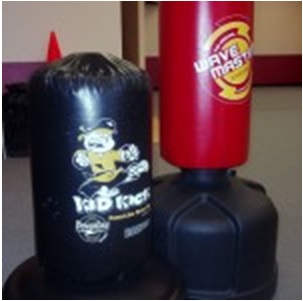 Kicking / Punching Bags – , Now on Sale-  Starting at $99 + tax (price may vary depending on sizes)
Perfect for training at home.  These bags come in a variety of sizes and in three main colors: black, red and blue.   They are easily assembled and fill up with water or sand.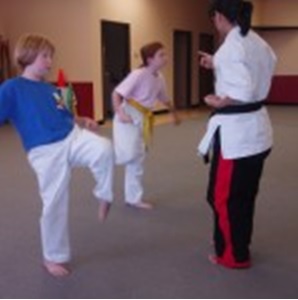 Extra Private Lessons / Prepaid Programs – Save 10-20% of original price
Excellent for testing preparation, to learn special forms and techniques, or improve self defense skill.  Each private lesson is 30 min long and they are set up around your schedule.  Packages go for 5 lessons, 10 lessons, 15 lessons, and 20 lessons.  Lessons never expire.  Also for prepaid programs – pay your program in advance for the next 6 / 12 / 24 / 48 months and save now.
Also, All Bushido items (not listed above) are 10% off during the whole sale.  Please email us, or call us during the sale time to take advantage of the savings.
USSD Karate Mission Viejo |  www.karatemv.com  |  sensei@karatemv.com  |  949.586.3818